Liveaboard List 2009-2010
MyBahama Mama , Patricia Forsyth Jones, UK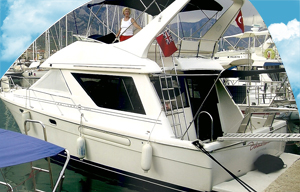 For almost a year now I have been watching the development of Alanya Marina with great enthusiasm. Having kept a boat in Turkey for many years I have had the pleasure of spending time in three of the marinas established and managed by Hasan Kacmaz ( Kusadasi-Antalya-Kemer) therefore I was confident that Alanya Marina would be another success story for him. In January I helped Hasan and Savas Ayas (Alanya Marina Manager) promote Alanya Marina at the London Boat Show and decided then that I should move my boat (Bahama Mama ) to the new Marina when I returned to Turkey in the Spring. I arrived at Alanya Marina in May, with the help the new owners of Watershed ,to a warm welcome from Hasas Oktay and Savas who have become very good friends over the years. At the time of my arrival Alanya Marina was still under construction but this didn't seem to interfere too much with the social scene. During the month of May we had a reception on the quay side for the Vasco De Gama Rally with a delicious buffet meal and live entertainment.The following week with traditional Turkish hospitality there was a reception for the 20th EMYR Rally in the marina with live music, plus a formal dinner at a beach side restaurant in Alanya town the following evening. These social events along with several informal cocktail parties aboard Bahama Mama Watershed and Foot Loose set the scene for a very sociable time. The Investors and their families attended several of the events and are both charming and friendly they are local people who have a keen interest in the promotion of the Town of Alanya.
On a more practical note Alanya Town has an excellent market, wonderful shops where anything and everything can be purchased plus a good selection of Hotels Restaurants and Cafe Bars. The main harbour is very picturesque and overlooked by a beautiful castle.
There is a very reliable bus service into Town from just outside the Marina gates and runs very frequently at the cost of 1TL to any part of the main town. I have also walked and biked the journey in to town which is just a comfortable enough distance to make it enjoyable without being too much like hard work Antalya Airport is approximately one and a half hours away and the cost of a taxi either way is 45euros if arranged through the Marina, there is also a bus service if you are travelling at a more sociable hour.
Once the Marina is completed in September it will have everything the Live-a -board or visiting boat owner could wish for including swimming pool -gym- cafe bar and restaurant -super market and a variety of shops. The Internet is up and running very efficiently already. There is a very professional, helpful and friendly team running the Marina which also includes the travel hoist operator who went to great length to lift Bahama Mama and settle her safely on the hard standing before I left for the U.K. I know I am going to be very happy at Alanya Marina and already consider it my new home in Turkey. I will look forward to meeting up with friends of long standing again and to making new friends as the Marina grows.
Patricia Forsyth Jones M/Y Bahama Mama
SY CALIDORE – Maggie & John Ping – Westerley Oceanlord 41 feet, British
We spent our 8th Mediterranean winter in Alanya Marina and great it was too. We wanted somewhere quieter and more rural. What we got was lovely people, superb local produce and whilst the winter was a bit wet, it was much better than the marinas in the south west. Alanya has everything we need and is close enough to walk but far enough away not to intrude. The people are courteous until they get to know you, then they are really friendly.
It was great watching the marina rise from the earth. It wont be finished on time but that doesn't matter, nothing ever is. We wont be using the tennis courts anyway!
We will be back in the autumn to meet up with the many friends we know are coming here.
SY CHULUGI – Marlen & Tejo Kokkelkoren, Holland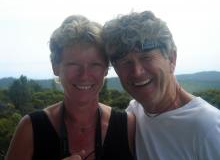 We, Marleen and Tejo Kokkelkoren (Dutch nationality) are sailors for the last 35 years.
With our new yacht, a Koopmans 40 cutter rig type Hutting, we are about to finish our circumnavigation, a journey of 8 years.
At this moment we're sailing in the South Red Sea on our way to Turkey.
We made a reservation in the brand new Marina of Alanya and are very proud to be one of the first permanent members of this new and nice located facility for sailors on the south coast of Turkey.
We looking forward to meet the management and will enjoy our stay there, only 3 nautical miles away from the nice town and close by our apartment in Mahmutlar.
SY CICI - Carol Boother & Peter Löffler, British/German
We took up sailing only about 5 years ago, just before we retired. We sail a Bavaria 33 Cruiser which is at present moored in Croatia. Last year we bought an apartment in Alanya as a winter residence, but we like living in Alanya so much that we now intend to spend more time here. We are planning to sail our boat down to Alanya before the end of this year and then in the future we will be able to share our time as we choose between the boat and the apartment. We are really looking forward to being Alanya Marina "residents" and to meeting and making new sailing friends.
Paul & Liz,(SY Gee Whiz), UK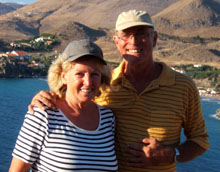 We have been liveaboards on our yacht Gee Whiz in Turkey for 3 years now and have enjoyed every bit of it. We have found the Turks to be warm, friendly and helpful. During that time we have sailed the entire Mediterranean coast, from the Gelibolu Peninsula to Iskenderun. So when we decided to over-winter in Alanya this year we had a pretty good idea what Turkey had to offer.
We chose Alanya for various reasons. Firstly it is a very nice town and castle with every amenity just an easy 20 minute cycle ride way or a cheap dolmus.
It is an excellent spot to explore quieter cruising grounds in the East of Turkey, Cyprus and points further south.
The price is right! The marina is offering a good deal on prices as it is new and not quite finished yet, though we are assured that all will be complete by the time we return in October, including, for us, the tennis courts.
Also we think there will be enough liveaboard people to create a good winter community.
Lastly of course the warm welcome and help we received from the excellent Alanya staff made a huge impact. We feel we can look upon Alanya as our new winter home. Just one little request for Hasan and Savas though. Is there any chance we can have the wonderful Red Tower Brewery Beer in the yachties bar? Afterall the owner is one of the main marina investors.
SY GOLDEN DAZE - Judy Golden & Ken Coats, USA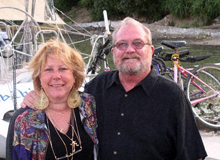 We are Judy Golden and Ken Coats sailing on Golden Daze. We retired in Fort Lauderdale Florida in 2005. We sailed from the Chesapeake Bay in May of 2007, stopping in Bermuda, and the Azores for the summer. In Sept we sailed to Portugal and ended up in Seville Spain for the winter.
We sailed from Seville in May of 2008 and came across the Med with stops in Morocco, the Balerics, Sardenia, Sicily, Italy and then Greece, through the Canal of Corinth and on to Marmaris, Turkey where we spent this last winter.
We are looking forward to our stay in Alanya at the new marina.
SY HARMONY VI - Sho, Sam adn Jhon, JAPAN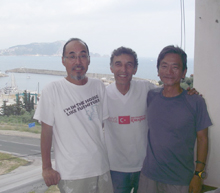 We spent three weeks at Alanya marina in May 2009.
After EMYR we will go to Greece then Turkey.
We will come back Alanya Nov. 2009.
At that time I hope we could play tennis there.
In May we could not.
The photo is from my friend house viewing Alanya Marina in May 2009.
Regards, Sho
SY MATELOT - Phillipa and Richard Buchanan, AUSTRALIA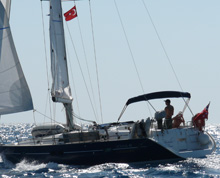 We would like to extend a huge thank you to all the staff at Alanya Marina www.alanyamarina.com.tr where we have spent most of the past month. To Savas, so gracious and obliging - nothing is too much trouble. Mesut - you are a star. The care and attention you gave to our haulout was exceptional. Mr Oktay, General and Technical Manager - your assistance on our technical issues is so much appreciated, especially your understing over the power lead which was twice severed by accident during our hull maintenance! Not even a raised eyebrow did we see! Finally Sibel who takes care of all reservations. Thank you Sibel - we did not say farewell to you, so hope this means we will see you again. ... and most of all to our friend Hasan, who we have not seen much of because he is away leading the Eastern Mediterranean Yacht Rally, but whose kindness and generosity is legendary amongst yachtsmen in the Mediterranean.
ABOUT ALANYA Marina is a short 1TKL (approx AUD1) bus ride from downtown Alanya, the ancient name for which was Coracesium in the 4th Century BC.
ABOUT ALANYA has a chequered history, having been inhabited by pirates during the second century BC, then taken over by the Romans around 67BC. Famous landmarks include the Castle and ancient shipyard built by Sultan Alaeddin Keykubat and the 33m high Red Tower, which overlooks the old harbour. Today endless resort hotels pack the coastline of golden sands from Antalya to Alanya and Cleopatra Beach close to the Alanya marina is no exception.
The completion of Alanya Marina now provides an opportunity for intrepid boating people to make the passage across the Gulf of Antalya off the beaten track, to arrive at a destination which can more than cater for their needs. Now that we have just refilled our water tanks, we can also say that the water we filled up with in Alanya was the sweetest drinking water we have ever had on the boat.
In the final stages of construction, Alanya Marina is close to some of the most interesting ancient sites in Turkey, many of them untravelled and unspoilt. The sites of Perge, Side, Aspendos, Manavgat, Gazipasa (which has an airport), Anamur and Silifke are all well worth the visit, not to mention the opportunity to travel inland and further east to places such as Cappadocia, Sanliurfa (Abraham's birthplace) and the astonishing Mt Nemrut national park area. To be able to sail and travel from Alanya to these destinations has been a huge bonus to us.
We wish Alanya Marina the best of luck in finishing the construction phase very speedily now. You are so close to being completely up and running. We will always have special memories of our time with you and know that anyone who comes your way will find a ready welcome in your Marina.
Yours very sincerely
Richard and Phillipa Buchanan
capnbuckandpippy.blogspot.com
SY Matelot
SY Octopus l - Montreal, Canada
LIVEABOARD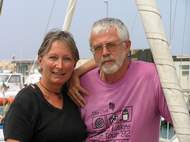 We (Gerry - Dutch born, Brigitte Swiss born) have been sailing & living in the Med aboard our Corbin since June of 2004; prior to that we sailed her on beautiful lake Ontario, Canada.
We are very pleased to make Alanya marina our homeport for the next 365 days! We look forward to meeting interesting people and visiting many more beautiful Turkish sites.
Take care, B&G
MY RED TOWER - Numan Gümrükçüler, Turkey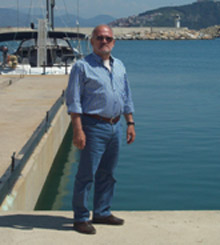 I am Numan Gümrükçüler, a cruiser born and raised in Alanya City. I have designed my own Motor Yacht and have it built in Turkey 2008. I have several businesses in Alanya City and decided to delegate my entire businesses to my two sons and became a freeman for my dream; living on board and cruise to different waters in summers, and return my home port Alanya Marina for the winter life. I am also proud to be one of the investors of Alanya Marina. I have very important announcement for the sailors / cruisers visiting Alanya Marina; as I am also operating an unique brewery called'' Red Tower Brewery'' located in the Old Harbor area, close to Red Tower, and I would like to offer the first glass of Red Tower beer to every sailor in my 5 Floor Bar&Restaurant Building, in Alanya City.
SY Red Shoes - Barbara Robertson & Brian Anderson, CA
Merhaba Sibel and the rest of the Alanya Marina team especially Mesut, Octay and Savas:
Thank you very much from the yacht Red Shoes for your excellent care of our boat over the winter while we were at home in Canada , and for all the help you gave us when we were getting our boat ready for the EMYR. You have a very professional team in the office and in the workshop, and you are always ready to discuss solutions to our problems. The dock men are very helpful both in the joker boat and on the pontoons, the housekeepers keep the showers and toilets very clean, and the managers for the chandlery, pub and the mini market are very friendly.
The improvements to the marina will make it a very popular stop for cruisers. I particularly enjoyed the swimming pool, and the opportunity to celebrate the wedding of the daughter of Red Tower made our time in Alanya Marina very special.
We are looking forward to visiting you again sometime in September. I am sure the marina will look even lovelier with all the landscaping in place.
Best wishes for continued success.
From Brian Anderson and Barbara Robertson on Red Shoes
SY Sondela, Kim & John Parkers, UK
Information:
- With regard to the surge - work has been completed on the pontoons which should help to alleviate the problem. We were in the UK during the November storm which Sondela survived, unscathed, in our absence.
No boats were sunk. We have been living on board since then and have been perfectly comfortable.
ABOUT ALANYA Marina is still a 'work in progress' and this is reflected in the charges. Since our first visit in June 2009 we have watched the marina grow and the attendant problems being rectified. You can work on you own boat.
The staff are friendly and helpful and, like Hasan, understand and respond to yottie needs.The electricity supply is good and charges for this (15c per Kwt) now apply. The shower and loo blocks are clean, well appointed and the hot water supply has been reliable for some months. Laundry & water are still free.
There are 2 super, clay tennis courts, now attached to the Health Centre, and a Boules pitch. The swimming pool is due to open shortly.
The pub, presently being used as a clubroom, has been fully refurbished and landscaped. Food is available and a 'Happy Hour' has been introduced. There is a, reasonably priced, mini-market whose owner is increasing his stock according to customer wants. A chandler and several workshops are on site.
WiFi isgood.
During the winter the liveaboards organised a full and varied programme of activities and most importantly... the weather here is warm. There have been several excellent Marina hosted parties and transport to the weekly markets is also provided.
We enjoyed Kemer last winter and this winter has been quite as good if not better. Alanya is an attractive, all year, town with a good sanayi and a lot of historical sites in the vicinity. 1TL on the bus or an easy bike ride away. There is a Migros within walking distance.
Antayla is the nearest airport about 1 1/2 hours drive. Flythomascook and others operate from there.
SY TILIKUM – John & Ingrid Slot - Pearson 365, Dutch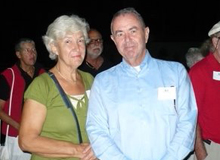 Ingrid & John Slot (Dutch). Residents of Alanya since end 2001.
We took delivery of "Tilikum" from the yard on Rhode Island in 1979 and a part of the family a long time now.
"Tilikum" first arrived in Turkey (Kusadasi) in 1991 and sailed back to Holland in 1996.
We missed Turkey and returned to our present home in 2001. "Tilikum" is back in these waters since 2004.
During working life all oceans were covered on merchant vessels.
We look forward mooring in this promising looking marina, in the near future.
SY TRILOGY OF PORTSMOUTH - Rossie & Bob, ENGLAND
LIVEABOARD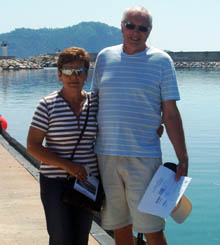 We think we found the Paradise. We just booked our mooring spot in the New Alanya Marina. We are planning to arrive sometime in summer and plan to winter in Alanya Marina. We found everybody so nice and friendly, and we really are looking forward to exploring this part of Turkey.
CAT Jade , Sherl & Pete Austin, New Zealland
LIVEABOARD
We are off to New Zealand early in the morning Saturday and before going we would like to express our appreciation for the assistance given to us by the Marina staff while we have been doing maintenance on our Cat JADE. We are also very pleased with the work completed on our sail drive by a local engineer. The Marina Staff are working in difficult conditions while the Marina is being completed and we look forward to returning Next Year and see the progress which will have been achieved.
When we return to New Zealand we will be able to assess the situation and decide our plans for next year, at this stage we are quite keen to join the EMYR but we will need to wait and see what happens with JADE. When we have assessed the situation in New Zealand we will contact you in regards to the marketing of JADE.
Please convey our thanks to the Marina Team for the friendly way they have looked after us.
Kind Regards.
Shirl & Pete Austin