Alanya Activity Guide
ASPENDOS OPERA and BALLET FESTIVAL
Opera and ballet lovers will be entertained until July 22 by the 13th International Aspendos Opera and Ballet Festival, which is now one of the most famous festivals of the world's classical music agenda and the only festival of its kind in Turkey. The festival, organized by the Culture Ministry's State Opera and Ballet General Directorate, will host 11 performances. Differently from the previous festivals, this year the festival will continue for two months.
The festival assumes a significant role in the presentation of Turkey through the medium of the arts and music, since its establishment in 1994. Aspendos International Festival not only contributes to the presentation of Turkey and its cultural diversity, but also proves the common acceptance of the growing concept of "cultural tourism."
The 13th International Aspendos Opera and Ballet Festival will begin on June 10 with C. Orff's "Carmina Burana." Two of the activities, Verdi's "Aida" and "Madame Butterfly" will be performed by the Ankara State Opera and Ballet General Directorate. The other 14 activities will be performed by three international groups, as well as the State Opera and Ballet in Istanbul, Izmir, Mersin and Antalya with its orchestra, chorus, soloists, and dancers.
ALANYA JaZz DAYS
The fourth of the traditional jazz days will be between the 14 th and 17 th of September in Alanya. The concerts began with very much interest to "Pluma Band". They will continue with very successful concerts which are consist of important musicians.
CAPITAL OF ALTERNATIVE SPORTS
When we talk about sports in Alanya, triathlon race which has an important place in the world sports rating is the first thing that comes to our mind. However, Alanya hosts a great number of international sports such as swimming marathon, mountain cycle, beach volleyball and beach football. In a way, Alanya is like a capital of alternative sports in Mediterranean. From spring to autumn, there's an international sports activity in Alanya. On international level, Alanya sports club struggles with the professional football team in Turkey second league and woman basketball team struggles in Turkey first league.
Sports Organizations
URBANBALL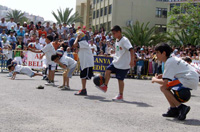 Urban Ball or so called Sky Ball was first created by French footballer Dean G. Ildefonse as a combination of dance figures with football, basketball, handball and jym. Following France, this sport branch has become popular among USA, Germany, Austria, and Haiti. Urban Ball was first played in Alanya on 23 April 2002. More than 400 players participated at the first Sky Ball Championship. Second one was organized on 23 April 2003 with the name of Urban Ball.
BEACH VOLLEY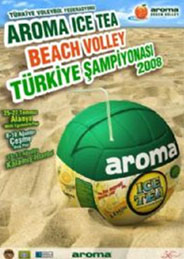 The first Beach Volley tournaments started in 1993 in Alanya as GAPS Alanya Beach Volleyball Tournaments by the support of Alanya Municipality. In 1996 part of world championship was held in Alanya. Following years Beach Volleyball organizations in Alanya have drawn the attention of FIVB. European Championship Finals was agreed to be held in 27 – 31 August in Alanya by the contribution of Mr. Dünya Baltacıoğlu. The prize for this finals was 100.000 € for men and was 100.000 € for women. A total of 24 men and 24 women participated from 24 different countries. Men's' class N. Berger / C.Doppler from Austria and women's' S. Pohl / O. Rau from Germany won the cup. There were a lot of press members and both national and international TVs and it was live broadcasted.
BEACH HAND BALL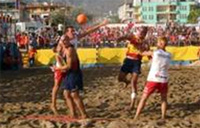 Alanya is not only a tourism centre but also is a city where many sports organisations are held.
International organisations supply important support to our town's promotion. Alanya Municipality besides Beach Volley and Beach Football has accepted idea of organising Beach Volley by the Turkish Handball Federation and the first Beach Volley Championship was held in 2002. Following this successful event in 2003 second one was organised and European Beach Valley Federation decided to organise the 2004 European Championship in Alanya. European Handball Federation (EHF) General Secretary Michael Wiederer, EHF Beach Handball Coordinator Peter Fröschl, Turkish Handball Federation (THF) President Günal Ensari, THF European Championship Coordinator Burak Tezcan, had a meeting and they observed the facilities were convenient and signed the contract for Europe Beach Handball Championship to be held in Alanya. It has been announced that more than 1000 players from 20 different countries would participate so travel agencies have preparations for the hotel reservations. Many newspaper and TV journalists have been invited for this event which will support the both Alanya and Turkey's promotion.
During their visit Wiederer and Fröschl looked very happy and also stated that they are sure that result of this cooperation of Alanya Municipality and THF would bring satisfactory benefits.
BEACH FOOTBALL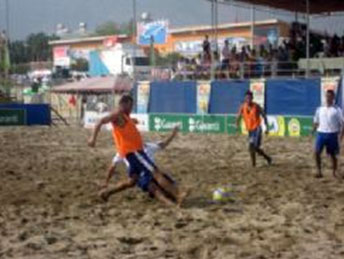 Alanya, as a city which is known where the Sports Organizations are held, has become the first one by organizing International Beach Football Championship on 14 – 16 July 2000. As a part of the World Championship, it lasted 3 days and national teams from 4 countries joined. Among Turkey, Germany, Brazil, Spain, Brazil won the cup in 2000. National teams from Turkey, Austria, Switzerland and England joined the cup for 12 – 14 July 2002 and Switzerland won the cup. Preparations to organize this event, which has a very high interest, have been running for the future years
STREET HAND BALL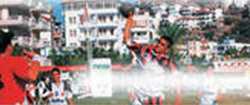 Street Handball Championship has been organized since 1995. However after 2001 it has been organized to the name of Ramazan Demirci, the National Turkish Handball team player. The Championship lasts 5 days under the observation of Turkish Handball Federation. It is played in Damlataş Beach and the categories are: Senior Men's, Junior men's, Senior Women's, Junior Women's, Elite Women's and Masters. Up to this year players from Bulgaria, Sweden, Denmark, Turkmenistan, Hungary, Romania, Azerbaijan, North Cyprus, Holland, Germany, Belgium, Israel and Austria have participated to the championship. Last year the 9th was organized on 24 – 29 June and 40 teams and 1000 players. Children championship placed in the Federation's calendar is organized on the same date.
MOUNTAIN BIKE CUP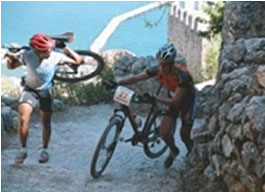 International Alanya Mountainbike Competition has been organized since 1997. The Competition, which takes place in Alanya Castle, is a journey to the history both for the racers and watchers.
About 200 racers from 15 countries join the competition. It is in the E1 category of Union Cycliste International. The competition, which is organized with the observation of Turkey Cycling Federation, the coordination of Alanya Nature Sports Club and the support of Alanya Municipality, is 7 kilometers. The total reward is USD 12.000.
ALANYA TRIATHLON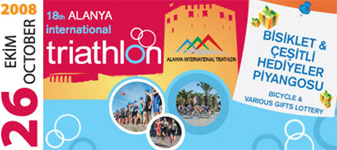 In 1978, American naval officer John collins formed a competition to test the endurance of human body in Hawai. First step is swimming on 3800 metres racecourse. Second step is mountain cycle race which will last 180 kilometres and the last part of it is the marathon running for 195 metres.
Triathlon first came to Europe in 1983 and in 1991, this sports was done for the first time in Alanya, Turkey. Alanya Triathlon and Tennis Club was the initiator of founding Turkey Triathlon Federation. International Alanya Triathlon is a part of man and women European Championship. It consists of swimming for 1.5 kilometres, cycling for 40 kilometres and marathon race for 10 kilometres. Furthermore, there are some categories consisting of over 40 and 50 year-old men except European Championship.
SWIMMING MARATHON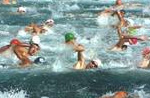 International Alanya Swimming marathone has been organized since 1992. It is in October a few days before or after International Alanya Triathlon. It has various categories such as young men, young women, men and women over 40 years old. The marathone starts from Cleopatra Beach crosses Cilvarda on the edge of the Peninsula and finishes at the port. It is 5 kilometers. About 100 swimmers from 15 countries join the marathone. The reward is a wek holiday in Alanya. Applications to join the swimming marathone are accepted at Alanya Triathlon and Tennis Club.